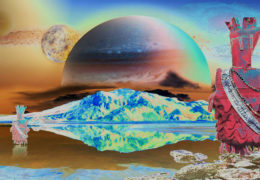 Esther Iverem's most recent book is Olokun of the Galaxy. In it, poetry and visual art is used to tell the story of Olokun, an African spirit of the deepest ocean, as s/he is born when Earth's oceans are born, as s/he witnesses the Atlantic Slave Trade, industrial revolution, pollution of the planet's water and, finally, as s/he takes off into space to swim on other planets and moons of the galaxy.
Click here for the press kit or to order the book online or from your local bookseller. Click here to order a signed copy directly from Iverem (this option benefits me most!)
ADVANCE PRAISE:
"Esther Iverem's Olokun of the Galaxy is a creation myth for an earth abused by slavery, capital, greed, human waste, excess and the neglect of nature in favor of concrete and death. Iverem, as djeli, links our global climate crisis to the Black Holocaust. She gifts us an epic for the ages that rages through syncopated lines with syntax swimming and singing through our synapses, giving us hope in the midst of the abyss."—Tony Medina, author of I Am Alfonso Jones
"Olokun of the Galaxy, by poet and artist Esther Iverem, is a richly imagined work drawn from the West African Yoruba tradition that offers a way to comprehend what is broken and breaking around us–while also conjuring hope, meaning and significance. Grounded in history and culture, this is storytelling that reminds us that what we do matters. The vision within Iverem's book is urgent as we humans struggle to re/learn how to respect the natural world and how to continue to live within its grace."—Melissa Tuckey, editor, Ghost Fishing: An Eco-Justice Poetry Anthology
A FOCUS ON SUSTAINABILITY
Author and artist Esther Iverem developed this hardcover, beautiful book, suitable for older children to the oldest adults, to accompany a series of award-winning Olokun figures she creates from jeans and other reclaimed materials. She has exhibited these "pants dolls" across the United States since 2012, sold them at pop-up shops and online on the website for her studio and through the studio shop on Etsy.
Honoring indigenous water protectors and the Movement for Black Lives, some of these "pants dolls" wear medallions that read "Water is Life" and "Mni Wicomi" or carry small photos of African Americans such as Eric Garner or Miriam Carey killed by state violence. This series and book takes Olokun from this earthly home to other oceans in the universe—including the waters beneath the ice of Europa, the methane lakes of Titan, and the far-off star system of Sirius. Olokun is an ancient and medaled hero and heroine, both matriarch and patriarch, a conduit for embrace, safety and regeneration. S/he is also protector of humanity, urging us to save and conserve our water, which is life.
Click here for the book press kit.
Esther Iverem's film book is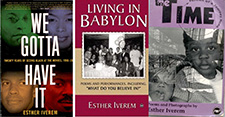 We Gotta Have It: Twenty Years of Seeing Black at the Movies, 1986-2006 (Hatchette Book Group) and she is the author of two books of poems, The Time: Portrait of a Journey Home and Living in Babylon, (Africa Word Press).
A former staff writer for several publications, including The Washington Post, New York Newsday and BET.com. She is also the recipient of numerous honors, including a National Arts Journalism Fellowship funded by the Pew Charitable Trusts and artist fellowships from the D.C. Commission on the Arts and Humanities.
Living in Babylon is Esther Iverem's critically praised second volume of poems. Her first book of poems and photographs, The Time: Portrait of a Journey Home, also received positive reviews, and she has been featured in Black Issues Book Review, on MSNBC.com and on the Tavis Smiley Show. She is a contributor to numerous anthologies, including Step Into a World: A Global Anthology of the New Black Literature, edited by Kevin Powell and The Garden Thrives: Twentieth Century African American Poets, edited by Clarence Major.
Her poem, "What Do You Believe In?" was broadcast internationally as part of the October 2003 March on Washington on the National Mall.
Esther Iverem "asks the most important question of the 21st century—which America Is America? Iverem teaches one how to turn pain into power and power into poetry" 
—E. Ethelbert Miller.